Xiaomi's Upcoming Smartphone Teased To Launch On July 11 | TechTree.com
Xiaomi's Upcoming Smartphone Teased To Launch On July 11
While the teaser video suggests a couple of features and the launch date, reports expect it to be Mi 6 Plus.
It looks like Chinese smartphone maker Xiaomi is all set to launch a new smartphone tomorrow, i.e., July 11, which, according to reports may be Xiaomi Mi 6 Plus. However, nothing has been confirmed yet.
The company has recently put out a new teaser video of around 13 seconds there by hinting at a launch of a new Android smartphone. The teaser suggests the launch event to be held on July 11, while no details pertaining to the smartphone has been leaked yet.
It is worth noting that the teaser video was first spotted by Gizmo China, and the teaser video has also revealed that the smartphone would be featuring a Snapdragon 800 Series processor. Well, according to a few guesses that's making to the rumour mill, it is suggested that the smartphone would be backed by a 4,000 mAh battery with fast charging support.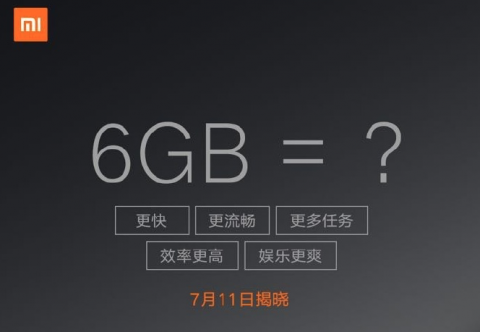 However, if the rumours turn out to be true, we may have some confusions over here. Earlier reports suggested that the Mi 6 Plus would be backed by a 4,500 mAh battery. But here, the game seems to be little different.
Xiaomi's new promotional video also mention about other features found in its upcoming smartphone, and the features include IR blaster, NFC support, 4G support, USB Type C port, and 22 MP rear camera module with 4K support.
TAGS: Xiaomi, Android, Xiaomi Mi 6 Plus