Ways iPhones Have Changed Over The Past 10 Years | TechTree.com
Ways iPhones Have Changed Over The Past 10 Years
From 3.5 inch TFT Display to 5.5 inch IPS FHD Screen with Force Touch, iPhones have come a long way.
June 29, 2007 — As the world's first iPhone went on sale this day, very few did actually know that it would be one of the most sought after phones ever. It's been ten years today and we have seen iPhone in different iterations and with varying capacities. Over these years, we have seen the ups and downs, improvements in technologies used in iPhones, and also many not-much needed features that rolled out just for the sake of it.
However, here we list out the ways iPhones has changed over the past 10 years:
Display Screen
The original iPhone came with a 3.5 inch TFT display screen with 480 x 320 resolution whereas the latest iPhone 7 Plus sports a 5.5 inch Backlit IPS screen with 1080 x 1920 resolution and 67.7 per cent screen-to-body ration. The original iPhone had Corning Gorilla Glass protecting the display screen while the latest iPhone 7 Plus comes with Ion-strengthened glass as a form of protection. Not just that, the latest iterations of iPhone even have a new 3D touch technology which the company calls as 'Force Touch'.
Operating System
While the OS that iPhone runs on will always be iOS (obviously), we have definitely seen changes in the version number. The original iPhone came with iOS upgradable to iOS 3.1.3 whereas the new iPhone 7 and 7 Plus come with iOS 10.0.1 out of the box, upgradable to iOS 10.3.2. This improvement is the operating system has allowed developers bring in better and more innovative apps to the iPhone users.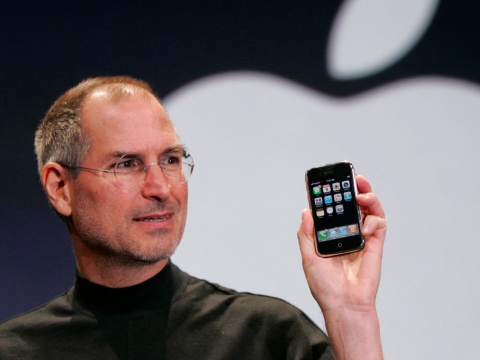 Siri
Siri is one thing that is considered synonymous to iPhone, and for obvious reasons, we have seen Siri becoming more smart with each passing day. Well, to be more specific, the original iPhone was launched without Siri, where as now, no iPhone is launched without the software assistant.
Connectivity
While the original iPhone supported GSM network, the new models support much than that including the LTE bands. Also, the Bluetooth functionality in the original iPhone came with version 2.0 with no GPS AND RADIO support whereas the latest iPhone models come with Bluetooth 4.2 and even NFC.
Build Quality
When it comes to build quality, we have always loved the way Apple makes iPhone. However, comparing the original device with the latest instalment simply makes us feel 'wow'. The original device had a body dimension of 115 x 61 x 11.6 mm while the latest iPhone 7 Plus has dimensions of 156.2 x 77.9 x 7.3 mm, which clearly shows that the device is considerably big but slim enough to hold in hand. The new iPhone 7 Plus also comes with IP67 certification which makes it dust and water resistant.
Camera
Apple iPhone has always satisfied its users in terms of its camera quality. However, we have seen the transformation happening from a single rear camera of 2 mega-pixels to a dual rear camera of each 12 mega-pixel sensors. Along with the transformation in terms of specifications, we have also witnessed improvements in the actual quality.
Under The Hood
Under the hood, the new iPhone 7 Plus comes with Apple A10 Fusion chipset paired with a 2.34 GHz quad-core CPU and PowerVR Series Series7XT Plus GPU, while the first iPhone had a 412 MHz ARM 11 CPU and PowerVR MBX GPU. The new iPhone also features 3 GB RAM with either 32, 128, or 256 GB ROM whereas the first iPhone came with either 4, 8, or 16 GB of internal storage.
TAGS: Apple iPhone, Apple iOS 10