Intex Launches Two New Tower Speakers | TechTree.com
Intex Launches Two New Tower Speakers
Both these speaker come with USB port, Bluetooth, FM Tuner, AUX Audio input, and Remote Controls.
Intex Technologies has launched its two new high-end Tower Speakers in India dubbed as the IT-12006 FMUB and IT-12005 SUFB with a USB port, Bluetooth connectivity, and a built-in FM tuner. Both these speakers also come with Remote controls and AUX Audio input compatible with DVD/PC/LCD TV. IT- 12005 SUFB supports a SD card slot too.
According to a recent press release, IT- 12006 FMUB speakers boasts a macho looks, while the IT- 12005 SUFB comes with the elegant look. The designing is done keeping in mind acoustics and the look & feel. They are operated via floor dancing display lights giving consumers the Digital FM playability experience. Easy to use, these speakers have superior quality of loudness, crystal clarity and powerful sound effect, being accessible from anywhere in the range of up to 7 to 8 meter.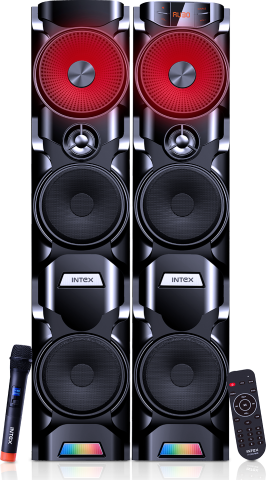 Speakers are powered with 50W + 50W output power giving a high performance. Operated by full function remote, making speakers ideal for home or office use. Cordless MIC function encompasses all modes with digital MIC volume & ECHO control.
IT- 12006 FMUB & IT- 12005 SUFB are available at an affordable price tag of Rs 11,400 and Rs 11,600.
Nidhi Markanday, Director & Business Head – Intex Technologies said, "Intex has been a pioneer in introducing the widest range of affordable yet high-tech speakers over the years. We have always focused on premier craftsmanship and engineering techniques to make our products stand out in the market and be a delight for the consumers. This new range range of Tower Speakers is bespoke for all types of consumer needs and are sure to be loved by the tech-savvy consumers ."
TAGS: Intex