Linksys Launches Dual-Band Gigabit WR1900ACS Router In India | TechTree.com
Linksys Launches Dual-Band Gigabit WR1900ACS Router In India
The new router comes with 1.6 GHz dual-core processor and 512 MB DDR3 RAM, along with a smart WiFi application.
Wireless and networking company Linksys has today announced the launch of its new dual-band Gigabit WR1900ACS Router in India which is claimed to feature an impressive 1.6 GHz dual core processor and 512 MB DDR3 RAM.
According to a recent press release, the Linksys Dual-Band Gigabit WRT1900ACS Wi-Fi Router is made for both, home users and business professionals operating out of small offices and startups. It is equipped to meet the needs of the most demanding home Wi-Fi networks to facilitate seamless surfing, video streaming, gaming as well as data transfer.
Altaf Ansari, Country Head, Linksys (India and SAARC) said, "We are delighted to announce the launch of one of our most advanced products, the Linksys Dual-Band Gigabit WRT1900ACS Wi-Fi Router in India. Given the legacy of the WRT series, users can expect to be treated with ultra-fast speeds for high intensive media applications, gaming and external storage data transfers. Additionally, they can remotely monitor their network and lastly have Open Source ready access for router customization."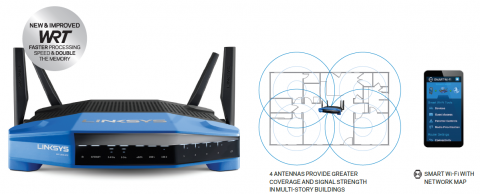 Cutting-edge software includes Linksys Smart Wi-Fi Application with Network Map allowing users to remotely monitor and control their network anywhere, anytime. Advanced users can also customize the WRT1900ACS via open source software from third-party websites.
Some of the key features of this new router are:
Wireless-AC, up to 4.3x faster than N technology: Simultaneous dual-band speed up to 600 Mbps (2.4 GHz) + 1300 Mbps (5 GHz)* for media-intensive applications.
4 high-performance antennas: Engineered to enhance dual-band communication, four external, adjustable antennas ensure supreme Wi-Fi signal strength in multi-level homes and small offices.
eSATA, USB 3.0 and USB 2.0 ports: Share content via an external storage device with ultra-fast data transfer speeds. USB 3.0† delivers enhanced performance over USB 2.0; eSATA delivers optimal data transfer speeds from external SATA drives and accommodates USB 2.0.
Open Source ready: Users gain unprecedented access to customize the router.
The Linksys WRT1900ACS Dual-Band Gigabit Wi-Fi Router is now available in India in online as well as offline stores via Linksys India's channel partners. And, speaking about its price tag, the company has still not updated the price tag on its website, while we can see the device being sold on Amazon for Rs 18,499.
TAGS: Linksys