WhatsApp Announces New Features For iPhone Users | TechTree.com
WhatsApp Announces New Features For iPhone Users
If you have an iPhone, you can now add filters to videos and photos, while you can just swipe right to reply.
Instant Messaging application WhatsApp recently announced a new update for iPhone users which include photo filters, automatic albums in chats, and also quick replies to messages.
Speaking about these new features, 'Filters' is probably a big one as it allows you to add filter to your photos, videos, and GIFs right within the WhatsApp camera itself. All you have to do is — "Just capture or select media that's already on your phone and swipe up to pick a filter". In-fact, you shall be getting five options to choose from including pop, black and white, cool, chrome, and film.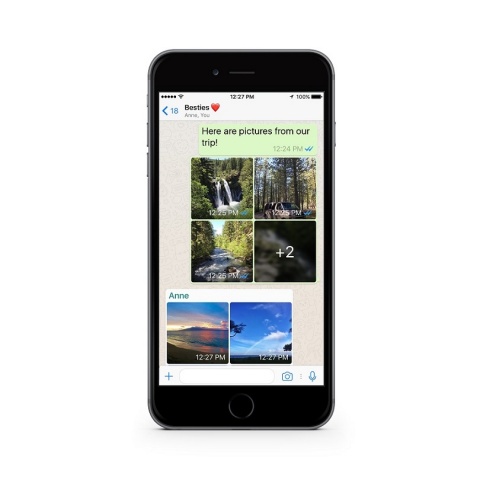 Moving ahead, another feature 'Albums' is useful when you send or receive a collection of five or more photos or videos. They will automatically be grouped together as an album, creating a tile display within your messages, and when you tap on the album, you'll see the collection of photos and videos in full screen as given in the picture above.
And finally, the feature 'Reply Shortcut' makes it easier to reply to a message, as you can simply swipe right on any message and start typing your response.
TAGS: WhatsApp