Samsung Launches Notebook 9 Pro At Computex 2017
The flexible laptop comes in two different variants - 13.3 inch and 15 inch, and is powered by Intel Core i7 processor.
Samsung has launched its new flexible laptop dubbed as the Notebook 9 Pro at the on-going Computex 2017 event in Taipei in two different variants.
The Notebook 9 Pro features a 360 degree hinge and two different variants come with different display sizes - 13.3 inch and 15 inch. However, while the laptop is said to be made available for purchase later this year, the company has not yet announced its price tags officially.
Technically speaking, both 13.3 inch and 15 inch variants of Notebook 9 Pro come with Intel Core i7 Processor under the hood, while the smaller variant features an integrated Intel HD Graphics 620 chip and the bigger one has a dedicated AMD Radeon RX 540 graphics. However, both these devices come with FHD touchscreen display.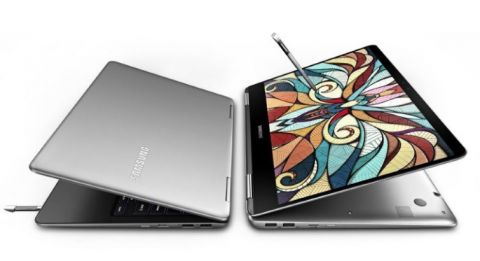 Moving further, the 13.3 inch variant comes with 8 GB DDR4 RAM while the 15 inch variant packs in a 16 GB of RAM. Both these variants come with 256 GB of SSD storage. And, they both come with the new S Pen stylus with a 0.7 mm tip, which is claimed to be capable of detecting more than 4,000 levels of pressure.
The Samsung Notebook 9 Pro also comes with connectivity options including two USB 3.0 ports, one USB Type C port, HDMI port, micro SD card slot, WiFi, and Bluetooth 4.1.