New Surface Pro Unveiled By Microsoft
The new surface pro is claimed to be completely redesigned from the inside out, making it more light weight and slim, yet powerful.
Microsoft has recently unveiled its new Surface Pro via an official blog post, and mentioned that the device is available for pre-ordering now, starting from today. The blog post has also included a couple of render images of the new and upgraded Surface Pro, while the company claims to have been completely redesigned from the inside out.
According to Microsoft, "We've optimized every millimetre, with over 800 new custom parts and used 99% of the space inside the device – to give people exactly what they need to work and create anytime, anywhere."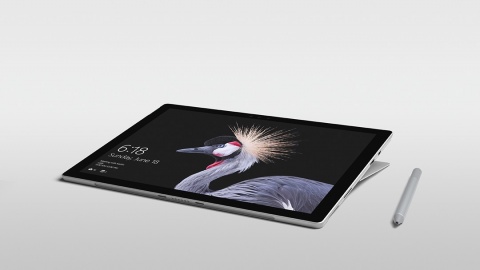 The company has further explained in the blog post — "You can leave your charger at home because Surface Pro is packed with up to 13.5 hours of battery life. That's 50% more than Surface Pro 4 and 35% more battery life than an iPad Pro. From home to work and back again, Surface Pro is there for you. This is a powerhouse laptop with 2.5 times more computing performance than the Surface Pro 3 and 1.7 times the compute of iPad Pro. The improved Surface Pro hinge has a full 165-degree range of motion, letting you immerse yourself in "Studio Mode", an angle inspired by the Surface Studio, perfect for writing, sketching, and drawing on the go."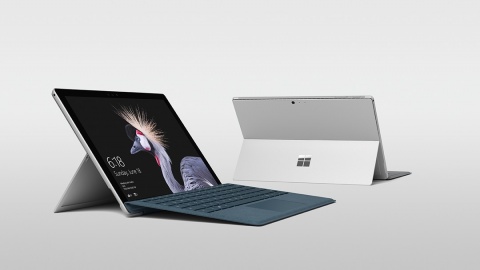 Adding further, the blogpost clarifies that the new Surface Pro weighs just 1.7 lbs and is just 8.5 mm thin. Also, under the hood, it comes with a 7th Gen Intel Core processor thus paving way for company's touts about the new Surface Pro being the quietest Surface yet. Additionally, the company claims that the new Surface Pro's PixelSense Display has an impressive 50% more pixels than a 12" MacBook.
Surface Pro and Surface Pro Signature Type Cover are available for pre-order today and will ship on June 15 worldwide with price starting from $799.99 USD for the Surface Pro. Surface Pen will be available in the coming weeks.
TAGS: Microsoft, Surface Pro