WhatsApp Users On Android Can Now Pin Important Chats | TechTree.com
WhatsApp Users On Android Can Now Pin Important Chats
The feature was earlier available only for beta users.
Do you remember the 'Pinned Chat' feature on WhatsApp that we had written about a couple of weeks ago, being available for beta users? Now, the same feature is finally available for all Android users.
Speaking about the 'pinned chats' feature, it makes easier for people to stay on top of the messages that matter the most.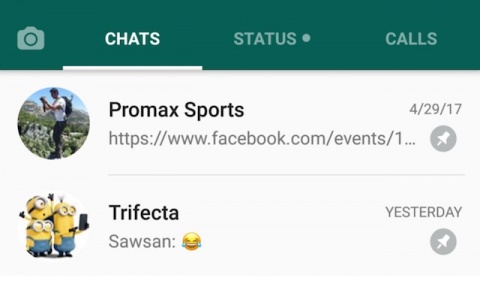 With pinned chats, you never have to worry about scrolling through the long list of conversations to text your family members or your best friend. Users can now pin up to three of the most important group or individual chats to the top of their chat list for easy access -- simply tap and hold a chat, and then tap the pin icon at the top of your screen, according to a recent press note.
However, speaking about feature, the only drawback is the fact that, we can pin only up to 3 chats, and if at all you try to pin the fourth one, you get a notification saying that you can only pin up to 3 chats.
TAGS: WhatsApp