Moonfrog Labs Launches Baahubali Mobile Game | TechTree.com
Moonfrog Labs Launches Baahubali Mobile Game
The game reminds us of the hit game Clash of Clans most of the time.
Moonfrog Labs has announced the launch of the mobile game Baahubali on Google Play and Apple App Store based on S.S. Rajamouli's blockbuster movie with the same name.
According to a press release, this is a first-of-its-kind game made for the Indian market developed in partnership with Arka Mediaworks and S.S Rajamouli's Baahubali, with support from Graphic India. The game pretty much resembles the hit game Clash of Clans where the focus is on skilful thinking and planning to achieve victory.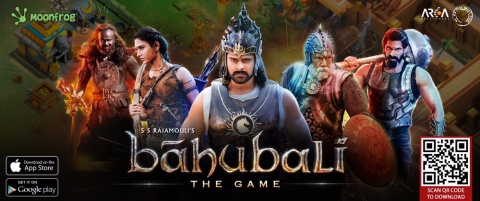 With Baahubali: The Game, the players act as Senapatis (generals or commanders) who serve the kingdom of Mahishmati, train an army, build defenses and join forces with Baahubali, Kattappa and the other heroes of Mahishmati to push back the ruthless Kalakeya.
The game features digital versions of Baahubali, Kattappa, Bhallala Deva and the other heroes of Mahishmati, who the players can include in their army. The end goal is for the player to prove their skills by building the strongest army, the best defended Rajya (outpost), and a working economy with food and gold to protect the kingdom of Mahishmati from the Kalakeya.
TAGS: Mobile Game