Fujifilm Launches FinePix S4000
Boasts of 30x optical super long zoom.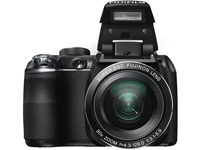 Fujifilm has launched the FinePix S4000, which features powerful 30x optical zoom at a comparatively affordable price. The camera is the latest in the launching spree in which the company has launched several new models in the past few months.

The S4000 looks similar to a prosumer made of similar materials. It has a 14 MP CCD sensor with large 3.0" screen, and also an Electronic Viewfinder (EVF) to help conserve the battery power. In addition to its huge 30x smooth 45-step zoom allowing you to bring far off objects up close to shoot, it features a macro mode, which lets you shoot objects as close as 2 cm to the lens. The 24 mm wide angle lens enables shooting wide panoramic photographs. The camera also supports light sensitivity up to ISO 6400, which should help it in low light photography. It is capable of shooting 720p videos.

The camera also comes with other features such as SR AUTO, Face Detection, Face Recognition, Blink Detection, Smile & Shoot mode, etc. Sensor shift image stabilization has been incorporated to reduce blur while shooting.

The Fujifilm FinePix S4000 has been launched at an MRP of Rs 18,999.