Creative Launches Nuno Series Bluetooth Speakers; Price Starts At Rs 2,999 | TechTree.com
Creative Launches Nuno Series Bluetooth Speakers; Price Starts At Rs 2,999
The new speakers come with sheaths of woven fabric wrapped around them resulting in a rustic minimalist look.
Creative has announced the launch of new portable Bluetooth speakers in the Creative Nuno Series, dubbed as Creative Nuno and Creative Nuno Micro. Both these speakers come with price tags of Rs 4,999 and Rs 2,999 respectively.
According to a recent press release, Nuno means 'woven cloth' in the Japanese language. The Creative Nuno series draws its name from the way the speakers are wrapped in sheaths of woven fabric, resulting in a signature rustic minimalist look. The clean lines embody the timeless appeal of simple, well made, handcrafted pieces of art.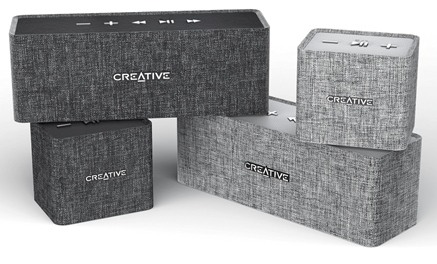 With a styling that looks simply amazing whether you've carried it to your office, dance studio, or the park, or anywhere at home, the Creative Nuno series delivers loud impressive audio with the wireless convenience of Bluetooth. The control buttons are also specially designed to look good aesthetically as well as function ergonomically.
Adding further, the Creative Nuno or Nuno Micro are also capable of doubling as a speakerphone with Bluetooth connection with your smartphone. Uses can even switch between tracks and control volume levels with the accessible raised buttons built into the speaker's top panel that are easily recognisable.
Apparently, Creative Nuno Weighs around 390 grams and comes with a battery life of 6 hours while Creative Nuno Micro, weighing ar 180 grams comes with 4 hours of battery life.
TAGS: Creative