WhatsApp To Soon Allow You To Unsend Messages | TechTree.com
WhatsApp To Soon Allow You To Unsend Messages
Also, we may see a 'live location sharing' feature that allows you to share real-time location with your contacts.
WhatsApp is known for introducing new features every now and then, in order to stay ahead of competition. Now, it looks like the messenger app is testing out something else; something more interesting than ever before.
The much rumoured feature that would allow users to recall messages sent unintentionally, is said to be on-the-way to WhatsApp pretty soon. In-fact, there are some reports that actually guide you to get the new feature along with others right away, without the company rolling it out officially yet.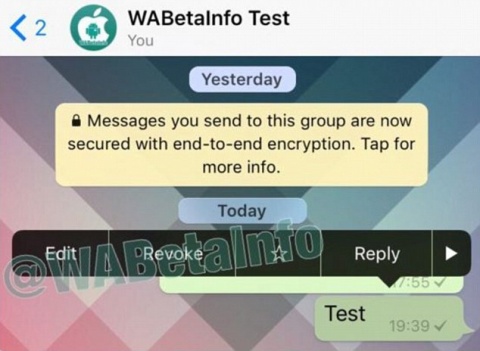 Image via WABetaInfo
This new feature is being said to be called as 'unsend messages' for now, and it is being reported that it would actually remove the message from the recipient's phone within five minutes since the message was sent. Well, this can definitely save lot of awkward situations, given that the recipient wouldn't have got a chance to read the message.
Additionally, it is being claimed that the messaging app is also testing its new feature dubbed as 'live location sharing' which allows users to share location with contacts in real-time. Now, this would definitely come in handy, be it in distress situation or even when you are visiting your friend's place and you need him to guide you accurately.
Having said this, both these new features are expected to soon reach out to beta testers on iOS platform, and we may soon see them on Android as well. Well, if not that, we mentioned earlier itself - there are reports that inform you how to get these features right away. But, its a little goofed up! We advice you to be careful.
TAGS: WhatsApp