Usha Shriram Launches Two Smart LED TV Models
The 32 inch TV comes with price tag of Rs 17,990 while the 40 inch model comes at Rs 25,490.
Usha Shriram has today announced the launch of new Smart HD and Full HD LED Television sets in 32 inch and 40 inch category, which would be available for purchase across online portals including Amazon and Paytm.
Usha Shriram U42U4S 40 inch Smart Full HD LED Television comes with so-called 'Web Cruiser Remote' in order to provide a better TV watching, Internet browsing, and Gaming experience.
The Full HD smart TV comes with an A plus Grade panel, Screen Mirroring and HRDP Technology. Furthermore, the TV also has 2 HDMI, 2 USB, 2 AV, 1 RF, 1 PC Audio Input connectivity ports and 20W audio output. With a resolution of 1920 x 1080, the TV features a wide viewing angle at 178°/178° and comes with a 1 Year warranty.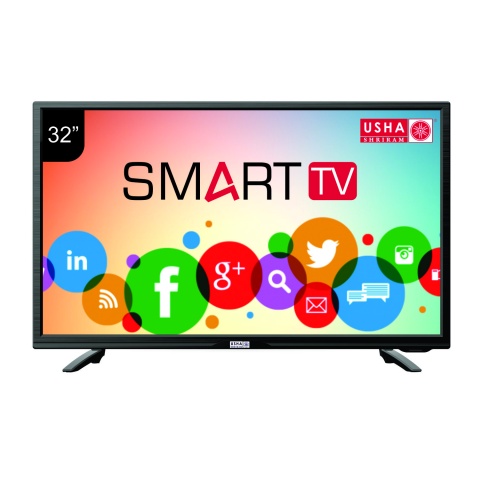 Moving further, the 32 inch Smart TV also boasts of the impressive 1366 x 768 HD Ready resolution, A plus Grade (zero Brt Dot) panel, with a wide viewing angle of 178°/178°. The UV3230S TV offers a host of latest features, including HRDP technology, power audio, eco vision, wireless headphone control, screen capture and M.Cast (screen mirroring). The smart TV comes with 2 USB and 2 HDMI ports, also providing multi-media playability, multi-display function and browser support, according to a recent press release.
Therefore, although all the functions of the 40 inch and 32 inch Smart TVs are the same except for the size and resolution, the 40 inch TV comes with an external speaker slot. Both the variants comes power packed with 1 GB RAM, 4 GB Internal storage, air mouse & SD Card Slot
Having said this, both 40 inch Smart Full HD TV and 32 inch Smart HD TV come with price tags of Rs 25,490 and Rs 17,990.
TAGS: Smart TV