iPhone 8 May Come With A True Tone Display | TechTree.com
iPhone 8 May Come With A True Tone Display
This display technology was earlier exclusive for the 9.7 inch iPad Pro models.
Almost every single day, we are coming by something new that has to do with Apple iPhone 8. Just recently, we witnessed a report that suggested other previous rumours as false, and hinted at some interesting facts completely new in the rumour mill.
Now, another fresh report hints at a True Tone display being sported in the 2017 model of iPhone, the iPhone 8. Or, as a previous report called it - the iPhone Edition.
Here's an image shared by MacRumor giving you a perfect explanation as to what are the capabilities of these True Tone displays.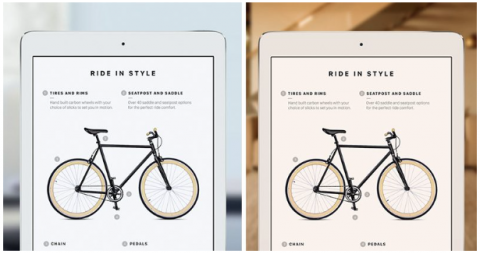 To recall, this True Tone display technology was first used on the 9.7 inch iPad Pro, completely exclusive to that device. However, a new Barclays report obtained by MacRumors claims that the upcoming iPhones will be having the same display technology as well. This True Tone display technology in-fact allows the devices to actually shift shades according to the atmosphere.
Here's an excerpt from the research note as obtained by MacRumors:
For the expected iPhone 7S models, as well as the iPhone 8, we think ams's content increases due to the inclusion of its full spectral sensing ambient light sensor, as already seen in the iPad Pro for that device's True Color screen functionality. We estimate this to be a material step-up in content from the $0.60 range to $1.00.
TAGS: iPhone, Apple iPhone