Madagascar 3 Will Launch On 8th June For PS3 And Xbox 360 At Rs 2800 | TechTree.com
Madagascar 3 Will Launch On 8th June For PS3 And Xbox 360 At Rs 2800
Release co-incides with the movie; will be the first Namco Bandai game to be distributed by Reliance Home Video and Games in India.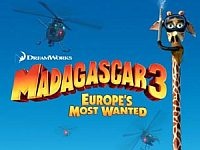 Reliance Home Video and Games has joined forces with Japanese video game maker Namco Bandai to release its games in India. First up is Madagascar 3 – Europe's Most Wanted, which is slated to release around the same time as the movie. The film is slated to hit the theatres on 8th June. The game seems to be targeted mostly at kids, and features circus and carnival games with a Madagascar flavour to the proceedings.
Like the title says, the game allows players to assume roles of characters from the movie, as the action takes you through various locales of Europe. Madagascar 3 – Europe's Most Wanted will retail at Rs 2800 for PS3 and X360. It will be retailed through leading bookstores such as Landmark and Crossword, in addition to e-commerce portals.
TAGS: Gaming, PlayStation, Xbox, Nachiket