Samsung Unveils Connect Home Smart WiFi Router
The new smart home router targets a niche group of users which other mesh routers are not concentrating as of now.
Along with the much awaited Galaxy S8 and Galaxy S8 Plus, Samsung has also unveiled a couple of other interesting products including Gear 360 Camera, Desktop Dock, and a router, which it calls the Connect Home Smart WiFi System.
This new router is in-fact not just a router, but also a SmartThings Hub. Though the company has not yet announced any details regarding the router's price and availability, a recent report published on Engadget.com mentions that the Connect Home System will be sold on its own or in a three-pack, while a pro version may also available.
To recall, Samsung bought the home automation company called as 'SmartThings' in 2014, and now, as a result, the new router with SmartThings hub built-in can communicate with gadgets like Netgear Arlo security camera, Philips Hue lights, and Samsung appliances over WiFi, Zigbee, or Bluetooth 4.1. So, in-fact, once everything is setup, it is said to be as easy as managing everything with just a single smartphone app.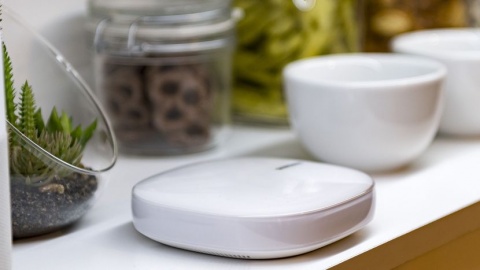 Technically speaking, the company has announced that the new router comes with a range of 1,500 feet, similar to what we get from Google WiFi. The Samsung Connect Home comes with 512 MB RAM, 4 GB of internal storage, quad-core 710 MHz processor, and 2x2 WiFi 802.11ac support.
Having said this, Samsung is definitely looking forward to cater more and more niche people who actually care about IoT, which we feel is pretty awesome, as most of the existing mesh WiFi routers do not yet cater this segment.
TAGS: Samsung