WhatsApp Brings Back Text Status Along With Other New Features | TechTree.com
WhatsApp Brings Back Text Status Along With Other New Features
The app now allows you to capture decent pic even in dull-light conditions.
WhatsApp recently pulled back its one-liner text status feature, and instead announced its Snapchat-type Status feature, which eventually disappears after 24 hours. However, that didn't do quite well among millions of users as people had to frequently update their status.
Now, after many users posted their frustrations on social media, the Internet based messaging app has rolled out a new update which brings back the text status feature. However, that's not it all. Users also get many other interesting features as well.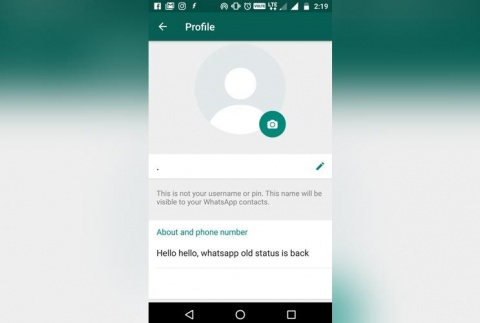 [Image Courtesy: Yahoo]
WhatsApp has received a new low-light mode, with the new update. You can see a moon icon on the upper-right-hand side of the camera screen, and by tapping it, you can actually click decent pictures even in low-light conditions.
And, the best part is, when you receive a new video, you had to wait all these days until the video is actually download, to be able to watch it. However, now the app allows you to view the video while it will be saved on the phone in the background.
TAGS: WhatsApp