Google Search App Surfaced Online With Cleaner Layout | TechTree.com
Google Search App Surfaced Online With Cleaner Layout
This report comes from a Reddit user who recently posted screenshots of the new layout on the Internet.
If you are an Android smartphone user, here is some good stuff for you. A recent report as published on Android Police claims that Google is now testing a new interface for its Google search app on your Android smartphone.
According to Android Police, the original source of this report is Reddit, where the user @jpe230 even posted a link that leads to a couple of screenshots he took while using the new Beta version of the Google App. So, the version is 6.14.17.21 according to the user, while the operating system is Android 6.0.1 Marshmallow.
Here are the screenshots as shared the Reddit user: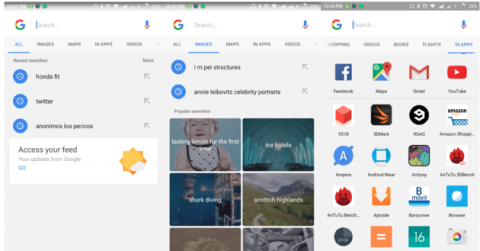 As you can see in these images, the new app comes with a clean layout, while recent searches have been separated into different categories like All, Images, Maps, In-Apps, etc. And, in the Images section, you can see that Google is showing up 'Popular Searches'.
However, Corbin Davenport of Android Police has mentioned in his post that even though he has the same version of the Beta app, he hasn't yet received the new design, which he further suggests to be mainly because of a server-side switch.
TAGS: Google