Microsoft Teams Rolls Out To Office 365 Customers Worldwide
Ever since its preview was announced in Nov 2016, over 100 new features have been added, claims the tech giant.
Microsoft has today announced the availability of Microsoft Teams, the company's new chat-based workspace in Office 365, which is in-fact the new tool that allows users to collaborate in teams. The new tool is said to be available in 181 markets and 19 languages, according to a press release.
Just in case if you are wondering what Microsoft Teams is all about - well, it is a messaging app, pretty much like Slack may be, which allows you to chat with your colleagues.
Microsoft also mentions in the press release that ever since the preview was announced back in November, more than 50,000 organisations have already started using the new collaboration tool. The organisations as listed out include Alaska Airlines, ConocoPhillips, Deloitte, Expedia, J.B. Hunt, J. Walter Thompson, Hendrick Motorsports, Sage, Trek Bicycle and Three UK.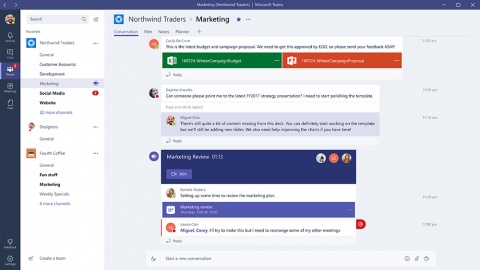 "In a world where information is abundant and human time and attention remain scarce, we aspire to help people and groups of people be more productive, wherever they are," said Satya Nadella, CEO, Microsoft.
He also added, "Office 365 is the broadest platform and universal toolkit for creation, collaboration and communication. Today we are adding a new tool to Office 365 with Microsoft Teams, a chat-based workspace designed to empower the art of teams."
Microsoft has introduced more than 100 new features to Teams since November, including: an enhanced meeting experience, with scheduling capabilities; mobile audio calling, with video calling on Android now and coming soon to iOS and Windows Phone; email integration; and new security and compliance capabilities.
The company has also delivered new features to make Microsoft Teams accessible, such as support for screen readers, high contrast and keyboard-only navigation. Guest access capabilities and deeper integration with Outlook, and a richer developer platform are targeted for June of this year, adds the press release.
TAGS: Microsoft