Moto Z (2017) Image Leaks Online
The upcoming device will more likely be powered by a Snapdragon 835 SoC.
We all know that Lenovo is working on the next iteration of its Moto Z smartphone, after the company gave a sneak peak of the 2017 variant of the premium device at the recent MWC 2017 event held in Barcelona. In-fact, the new sneak peak was given when the company was showcasing new Mods at the event.
In-fact, according to recent post published on Android Central, we can clearly see a new oval shaped fingerprint sensor on the front panel of the smartphone, while the form factor seems to remain the same. This photo was in-fact a part of the tease during the MWC 2017 event. In the image, you can also see the upcoming Moto Z with the Gamepad Moto Mod.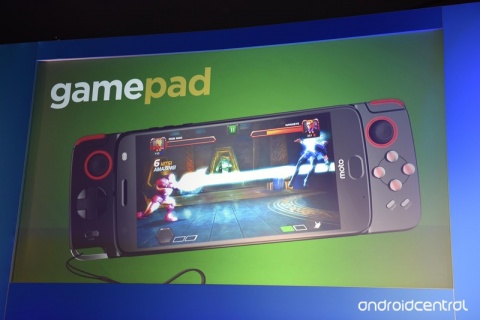 Also, according to a recent post published on Gadgets 360, it is being said that the upcoming Moto Z will be boasting the top of the line specifications including the Qualcomm Snapdragon 835 processor. It is being said that this rumour came in when the device was used to showcase Sprint's Gigabit LTE service, pictured with a running Snapdragon 835 processor.
TAGS: Moto Z