This Edition Of Nokia 3310 Costs You Around Rs 1,12,680 | TechTree.com
This Edition Of Nokia 3310 Costs You Around Rs 1,12,680
The phone features gold plated Putin's portait, gold seal, and a gold plated button on the front.
At the MWC 2017, We all have witnessed the launch of one of the most popular mobile phones ever made by Nokia, the 3310, with a refresh in its design. With such a grand comeback, the feature phone brought in hopes and happiness on many faces.
And now, a company called Caviar who is popular for making luxurious and limited edition Apple iPhones, has manufactured a luxury variant of the Nokia 3310 as well, dubbed Supremo Putin.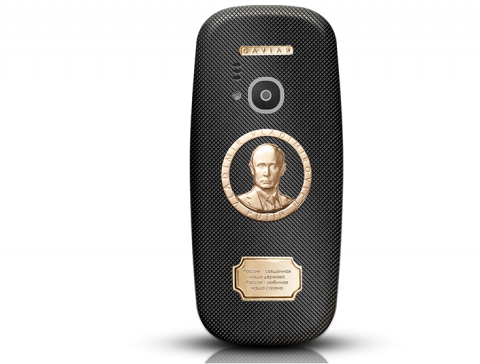 Well, as the name suggests, the luxury phone features a gold-plated portrait of Vladimir Putin on the back, a gold seal with a quote from Russia's national anthem, and a gold plated button on the front. This button has an image of Russian coat of arms on it. Additionally, the luxury phone comes with a wooden case with black velvet lining.
Having said this, the phone's specifications are similar to the actual feature phone. It comes with a 2.4 inch polarised QGVA display, 2 MP rear camera with LED flash, and supports up to 32 GB of microSD card.
The Nokia 3310 Supremo Putin luxury phone is said to be available for a price tag of 99,000 Russian Rubles, which translates to around Rs 1,12,680. You can also pre-order the same device online as their official website.
TAGS: Nokia