Nokia Smartphone With Snapdragon 835 SoC In The Works | TechTree.com
Nokia Smartphone With Snapdragon 835 SoC In The Works
The company has replied on Weibo to a query that it needs some time to make the smartphone public.
Ever since Qualcomm rolled out Snapdragon 835 SoC at CES 2017, it has kind of become a mandatory rule for most of the smartphone manufacturers to come up with a phone powered by the latest processor, to keep itself active in the competition. Well, Nokia seems to be no different.
The company has recently hinted at a phone powered by the latest Snapdragon 835 processor via Weibo. The hint comes in the form of a reply to a Weibo user's query. However, the company has mentioned that it may take a while for the smartphone to be available for public.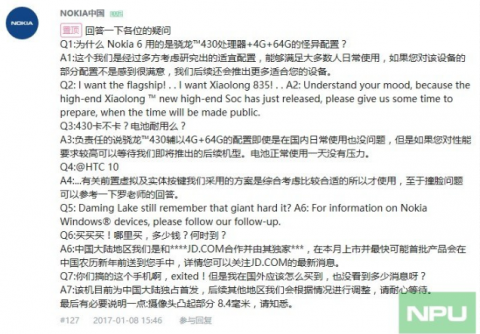 According to Google Translate, here's the exact translation of the reply sent by Nokia's Weibo account:
"Understood your mood, because the new high-end Snapdragon SoC has just released, please give us some time to prepare, when the time will be made public."
However, if you recall, we recently witnessed a couple of Nokia P1 smartphone leaks which suggest that the smartphone would be powered by Snapdragon 835 SoC, along with 5.3 inch display with Gorilla Glass 5 protection and 6 GB RAM. A couple of rumours have also suggested that the smartphone may be launched at MWC 2017.