Government Warns Amazon Over Selling Indian Flag Doormats | TechTree.com
Government Warns Amazon Over Selling Indian Flag Doormats
Threatens to revoke visas issued to Amazon officials.
American e-commerce giant Amazon has a huge network of third-party sellers that help the company rake in cash. However sometimes, these sellers put Amazon in tricky situations. An incident took place recently, when India's external affairs minister took notice of the Indian flag doormats being sold at Amazon Canada.

Many Indians have been complaining about such products to Amazon India's Twitter handle. Amazon's standard answer was that, "These Products were never sold on Amazon.in. We have escalated this to our concerned teams and are working on the issue." Finally, a Twitter user @atulbhole tagged Sushma Swaraj in his tweet regarding Amazon selling Indian flag doormats.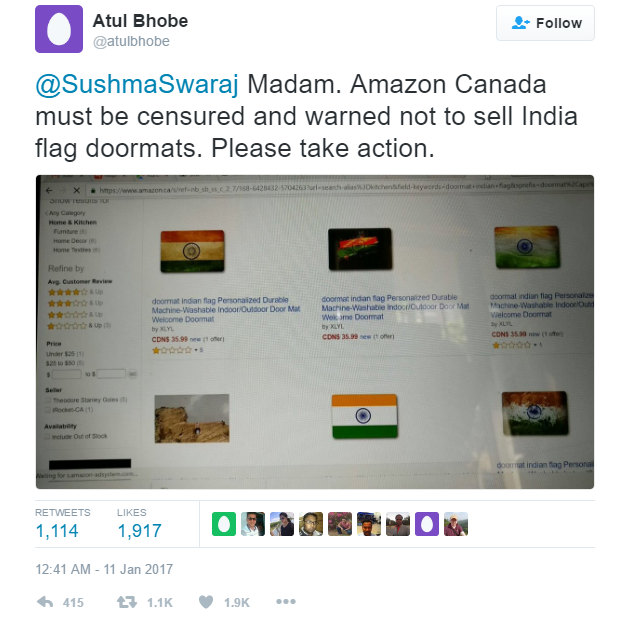 India's external affairs minister then asked the Indian High Commission in Canada to take this up with Amazon. She also threatened that India will not issue visas to any Amazon official if the company fails to withdraw products that insult the tricolour.

Indian High Commission in Canada : This is unacceptable. Please take this up with Amazon at the highest level. https://t.co/L4yI3gLk3h

— Sushma Swaraj (@SushmaSwaraj) January 11, 2017
After all this, Amazon removed the Indian flag doormats from its Canadian website. It seems that the seller in question XLYL is known for selling doormats resembling flags of different countries. Its doormats based on the US and UK flags are still available for purchase. That's probably because in developed countries, people see it as a way to show their love for the flag.
TAGS: Amazon