BlackBerry Outage Continues to Disappoint | TechTree.com
BlackBerry Outage Continues to Disappoint
Downtime leaves customers outraged.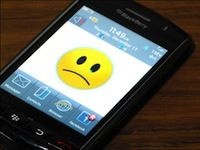 Another BlackBerry outage has left its customers restless and agitated. The BB server has been down since Monday, making it one of the longest disruptions the service has faced. As of this writing, services have still not resumed, with only brief periods of uptime. This has left BB users cheesed off, as the service is not free and it is unlikely that they will get compensated for the downtime. RIM has acknowledged the problem and simply stated that it is working on it. A spokesperson from the company explained that the system was supposed to automatically switch to a backup, but failed to do so. Reports from CNET.com claim that the outage has affected the Middle-East, Africa, India, Brazil, Chile, Argentina, and Europe, as a result of a core network switch failure in the system.

This comes at an inopportune time for the smartphone manufacturer, which has found itself facing stiff competition from rivals such as Apple and Samsung. Customers have already started posting their frustration on their Facebook Walls as well as Twitter accounts. As usual, several are also threatening to switch services (though it is unlikely that they will actually do so). In the meantime, iOS and Android users are grinning from ear to ear.
TAGS: Telecom, BlackBerry