Samsung Galaxy X May Come In Two Variants
A Weibo post suggests that Galaxy X would be having two variants: Galaxy X1 and Galaxy X1 Plus.
Samsung is working on a foldable smartphone - this is what we have been seeing around for a while now. But now, we have more information on this.
The foldable smartphone that is expected to reach public under the name Galaxy X, is now being leaked in two different variants called as Galaxy X1 and Galaxy X1 Plus, according to a post published on GSMArena that quotes a post found on Weibo.
According to the Weibo post, it looks like the company would be bringing these two smartphones into the public under different model numbers - XM-X9000 and SM-X9050. Additionally, we may see Android 6.0.1 Marshmallow and Android 7.1.1 Nougat running out of the box for Galaxy X1 and X1 Plus respectively.
Here's the screenshot of the translated Weibo posts.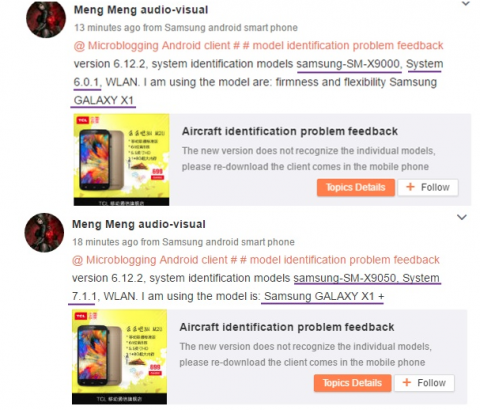 Along with this, GSMArena also states that the company's foldable smartphone would be sporting a 4K display and various biometric security measures like fingers, face, and palm, would be undertaken as well.
Also, we may expect the smartphone to go live during Q3 and Q4 this year.
TAGS: Samsung