CES 2017: Boltt Launches Fitness Wearables
Wearables include connected shoes, stride sensor, fitness trackers and a virtual health assistant named "B."
Boltt has finally launched its advanced fitness wearables and an AI enabled mobile health application at CES 2017. According to a recent press release, the fitness wearables include connected shoes, stride sensor, fitness trackers and a virtual health assistant named "B."
It is being said that the 'Connected Shoes' are developed with the most unobtrusive form of sensor technology, while every such shoe comes equipped with functions like energy bounce back, impact absorption, supportive cushioning balance and balanced gripping ground control for a comfortable and natural movement.
"Our triple-threat fitness systems have been demonstrated at CES for the first time. Our vision is to change the regular fitness regimes and upgrade it with a combination of new-age thinking and technology. Boltt will be a one-stop solution place for the user's health and fitness needs" said Arnav Kishore, CEO and Founder, Boltt Sports Technologies.
Speaking about the virtual health assistant 'B', the company touts that it is integrated deep into the Boltt Mobile App itself, and interacts with users and gives real-time voice coaching and interactive feedback on health and training, throughout the day.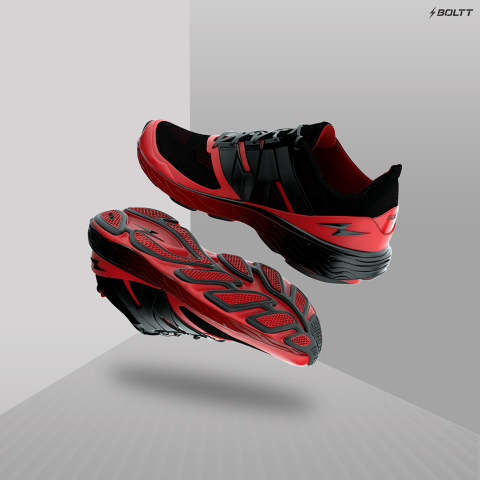 The Stride Sensor that comes embedded inside the shoes, can be clipped on any shoe or be worn with the help of an ankle band. It can analyse performance metrics for sports like Soccer, Rugby, Hockey and other field sports. The sensor comes with 97 % accuracy, based on patented SDM technology of Garmin, the leading global manufacturers in wearables.
The product will be available for pre-order later this month during the company's Kickstarter project and users can pre-claim on the company's official website boltt.com.