CES 2017: Intel Launches 5 NUC Compact PCs
All 5 Mini PCs come with different processors, but the design remains same.
Intel has finally announced the launch of its new line of NUC compact PCs powered by the latest Kaby Lake processors. While two PCs run on Core i3 processor, other two run on Core i5 and the fifth one runs on Core i7 processor.
As far as these new Mini PCs' connectivity is concerned, the ones with Core i5 and Core i7 chipsets come with Thunderbolt 3 ports, and those Mini PCs with Core i3 sports USB Type C 3.1 ports. These devices also come with USB 3.0 ports, Ethernet port, HDMI port, audio and microSD card reader.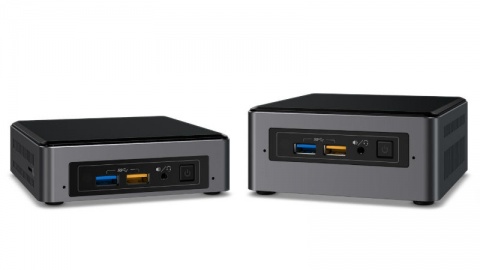 Having said this, all five NUC Compact PCs come with same design, though the processors inside them are different. Speaking about the design, all these NUC Compact PCs come with a square shaped body with a dark finish.
Speaking about the Mini PCs availability, it is said that those with Core i3 processor will be sold pretty soon, and those with Core i5 and Core i7 chipsets may take some time; probably in the first quarter itself.
TAGS: Intel