CES 2017: Asus May Launch ZenFone 3 Zoom At The Event
The company has tweeted that a new Zenfone with world's best processor will be launched during the Zennovation event at CES.
We all know that Asus has an event to host on Jan 4 at CES 2017 and, the company has finally confirmed that people at the event would be witnessing the launch of a new smartphone.
Asus has recently even put a post teasing the upcoming device, along with a message on Twitter. Here's the actual tweet by the company - "Level up! World's best processor now fully unleashed the potential! Save the date: 01.04.17 #ASUS #ZenFone #Zennovation #CES2017!"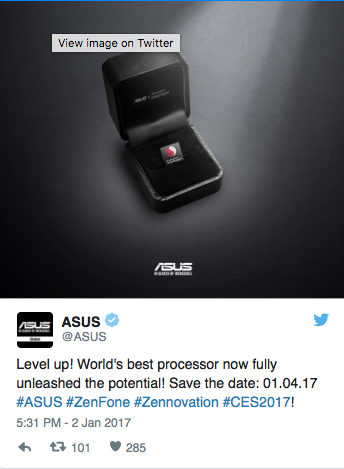 In-fact, if you observe the picture that accompanied the message in the tweet, you can see a ring box with a Qualcomm Snapdragon chipset inside it.
While the company is touting that the smartphone would be featuring the world's best processor, wide spread reports suggest that the chipset may be Qualcomm's latest flagship Snapdragon 835. Interestingly, the chipset is also being said to make its debut at CES 2017.
To recall, Asus had earlier released a video teasing two smartphones with unique symbols. While people started connecting those two smartphones with the Tango-powered device ZenFone AR and ZenFone 3 Zoom, we saw the ZenFone AR being leaked yesterday. Thus, this may be the ZenFone 3 Zoom, that has been rumoured for a long time now.
However, curtains will be raised officially from the new smartphone today at the company's Zennovation event held at CES.