Knappily Offers An Interesting Way To Keep You Updated With Current Affairs | TechTree.com
Knappily Offers An Interesting Way To Keep You Updated With Current Affairs
The smartphone app intends to be a one-stop solution for issues ranging from politics, economy, business, sports, and technology.
Knappily is a digital magazine app meant for the "knowledge-hungry time starved people" of today. The app, available for free on Play Store and App Store, comes with an interesting framework – 5W1H (What, Why, When, Where, Who, and How). The app uses this framework to not just uncover information about a topic but also provide complete coverage on it. Cyrus Mistry, Demonetisation, Cauvery issue, GST, US Elections, Brexit, the app covers all the pertinent issues that one must be familiar with.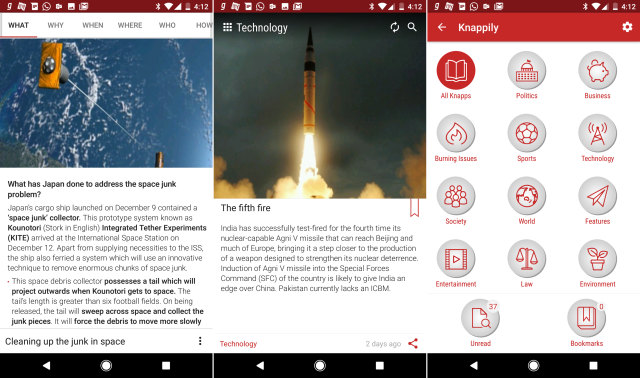 The app intends to be a one-stop solution for all the major issues ranging from politics, economy, business, sports to technology and law. The 5W1H framework helps the readers pace their learning. For instance, if the reader is familiar with the news, he/she can go skim through the 'What' section, and slowdown in understanding the reasons under 'Why' or gaining context under 'When'. The app achieves this through secondary research – by pouring over articles and reports from credible sources which are referenced at the end of each article. Yashaswi Kumar, the CEO of Knappily, thought of the idea while delivering a guest lecture on operations management three years ago. He says that Knappily intends to make people "a subject matter expert in 2 minutes". He adds that, "Knappily intends to solve the problems that arise from gaining superficial knowledge by reading only the headline and the summary of InShorts and other curation apps,"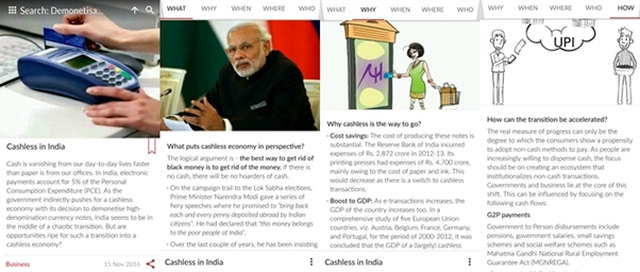 he app has a clean layout. Its swipe based UI is ideal for single-handed use. On each tab, a relevant image occupies one-half of the screen and the rest is covered by condensed story. To save you from eye-strain, the app offers day/night modes. So while the app is quite good, we think that tutorial would have been beneficial since the navigation happens in multiple directions. Moreover, the push notifications need to be tailored to user preferences.
TAGS: Software