LG To Showcase Tone Studio And Tone Free Bluetooth Headsets At CES 2017
Both these headsets come with horse shoe design, while other headsets in collaboration with JBL are also expected to be launched.
LG has recently announced that it would be unveiling a couple of new wireless, wearable audio products at CES 2017. Dubbed as the LG Tone Studio and LG Tone Free, both these bluetooth headsets come with a horse shoe design.
The LG TONE Studio (model HBS-W120) personal wearable speaker features four speakers (two full range on the top and two vibrating on the bottom) that give a personal surround sound experience when watching a movie, playing a video game or simply streaming music, according to a recent press release.
Also, it is being said that the LG Tone Studio would be featuring HiFi DAC and Dual Play. While HiFi DAC allows you to listen to the audio as accurately as possible, the Dual Play helps you to connect two similar wearable speakers and share the sound from a movie or a playlist.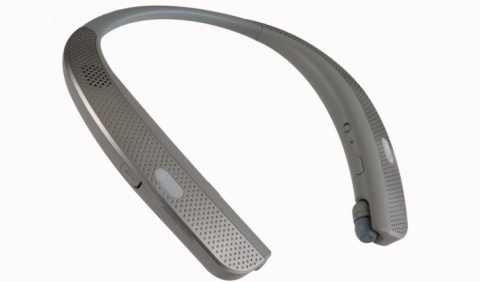 On the other hand, another product LG Tone Free (model HBS-F110) is LG's first wireless stereo product to come with wireless earbuds that charge whenever they are stored inside the neckband, making them easy to charge and carry.
The company further explains in the statement, "Not only does the neckband provide extra battery power and vibration alerts for incoming calls and text messages, it also provides a secure place to store the earbuds when not in your ears, making them less likely to be lost."
Along with these two bluetooth headsets, LG is also expected to unveil other headphones dubbed the Tone Infinim, Tone Ultra, Tone Active+, Tone Platinum, Tone Pro, and LG Force at CES 2017.
TAGS: LG