LG Announces The Launch Of Four Budget Smartphones In 'K' Series
Along with four budget smartphones K10, K8, K4, and K3, the company is also set to launch its LG Stylo 3.
LG has announced that it will be unveiling four of its new budget smartphones along with the new LG Stylo 3 at CES 2017 in Las Vegas. According to a recent press release, the new budget smartphones come under 'K' series, and are dubbed as K10, K8, K4, and K3.
Adding further, the company has announced in the press release that these new budget smartphones include 120 Degree wide angle front camera lens, 2.5D Arc Glass design and fingerprint scanner on the rear.
The K10 would be featuring a 5.3 inch HD display, 5 MP front facing camera, 13 MP rear camera, and a metallic U-frame for a sturdy and slim 7.9 mm profile. On the other hand, the K8 sports a 5 inch HD display with the same camera module as found in K10.
The K4 smartphone equips a 5 inch display with 5 MP front and rear camera setup, while a 2,500 mAh battery powers it up. Finally, the K3 is said to be the smallest phone in the series with a 4.5 inch display screen, 5 MP rear camera and 2 MP front camera, and also sports a 2,100 mAh battery.
Additionally, the company has also announced that it would be debuting the Stylo 3 at the CES 2017. Technically, the Stylo 3 simulates the feel and feedback of an actual pen when writing on the screen, thanks to a new 1.8mm diameter fiber-tip stylus, as given in the press release.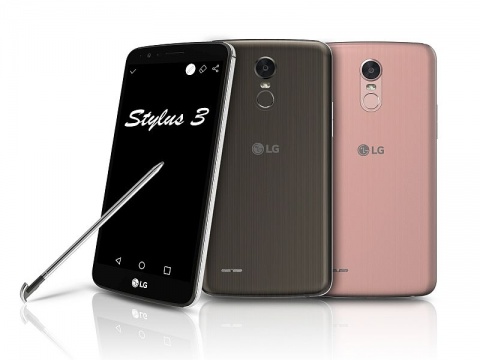 The Stylo 3 also features the Android 7.0 Nougat operating system, a fingerprint scanner and enhanced UX Pen Pop 2.0 as well as the popular Pen Keeper and Screen-off Memo. Pen Keeper displays a warning when the stylus strays too far from the phone, and Screen-off Memo enables note-taking directly on the screen, even when the display is off.
TAGS: LG