Narendra Modi App Allows Users To Rate The Demonetisation Initiative | TechTree.com
Narendra Modi App Allows Users To Rate The Demonetisation Initiative
The app now includes a survey that allows users to rate the initiative to curb black money, and give your feedback to the Prime Minister himself.
Do you like the new demonetisation initiative taken by the Prime Minister Narendra Modi? Well, we have been hearing a mixture of responses for this question; some positive, some negative, and others are still confused as to what is happening!
But, the Prime Minister is looking out for an honest opinion of each and every one of us, and has recently tweeted, "I want your first-hand view on the decision taken regarding currency notes. Take part in the survey on the NM App."
While the app until now, showcased news coverages and latest information, the new Survey section has definitely put the 'Digital India' initiative a level up.
The survey in the official Narendra Modi app poses questions like; Do you have any suggestions/ideas or insights you would like to share with PM Narendra Modi. Users are also asked with more generic questions like - Do you think black money exists in India? Do you think the evil of corruption and black money need to be fought and eliminated? What do you think of government's move of banning old Rs 500 and Rs 1000 notes? and others.
Here are a couple of screenshots of the app and the survey that you can probably take right away from your smartphone.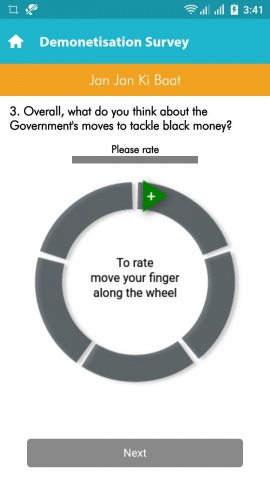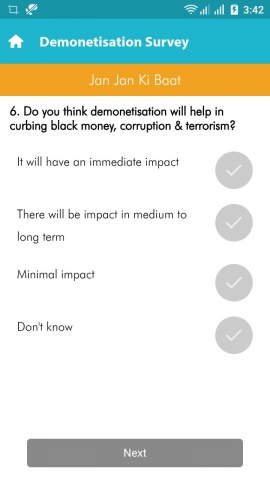 TAGS: Narendra Modi