Is Facebook Testing A New Timeline Interface? | TechTree.com
Is Facebook Testing A New Timeline Interface?
Leaked images show a change in layout; basic features remain intact.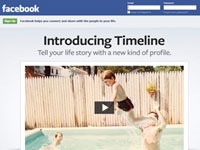 As people are still trying to get used to Facebook's Timeline feature (some probably haven't even opted for it yet), reports suggest that the social networking site is busy testing a newer layout. Leaked screenshots depict how the user's name and description is embedded with the cover photo, while details such as Friends, Photos, and Map are no longer placed as thumbnails, making the Timeline look cleaner. The About section has been changed to Summary, whereas Likes is now rebranded as Favorites.
While the changes are only cosmetic for now, nothing has been said about new apps and functionalities. Considering how post the IPO mess, FB is trying to save its face, I am guessing they have many important things to do than fixing features that work perfectly fine.
Having said that, here are the two screen shots for you to compare. Which one do you prefer and why? Do let us know through your comments.

Old Timeline




New Layout