Download: Bullzip PDF Printer 7.2.0.1319 | TechTree.com
Download: Bullzip PDF Printer 7.2.0.1319
Print anything into a PDF document.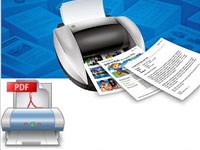 PDF documents have an advantage over other formats because they retain the formatting and fonts, independent of the platform on which they are opened. Creating PDF files is therefore an interesting way to distribute your documents.
Bullzip PDF Printer
is a freeware utility for
Microsoft Windows,
which lets you create PDF files, from just about anything you can print. This application installs a virtual printer, which gets this job done. While it is free for personal use, it can also be commercially used by up to 10 users. The good thing about this program is that it does not have any advertising or pop-ups. If you want to use it for commercial applications involving more than 10 users, then you have to opt for the commercial version of the product from
www.biopdf.com
.
Here are some of the special features of this utility:
* Print to PDF from almost any Windows program.
* Runs on Microsoft Windows
2000 \ XP \ XP x64 \ 2003 \ 2003 x64 \ Vista \ Vista x64 \ 2008 \ Windows 7.
* Supports 64-bit operating systems.
* Direct output to the same file each time or prompt for destination.
* Control if the printer should ask if you want to see the resulting PDF document.
* Control output and prompts programmatically.
* Setup can run unattended.
* Graphical user interface.
* Password protect PDF documents.
* 128 \ 40 bit encryption.
* Quality settings (screen, printer, ebook, prepress).
* Set document properties.
* Watermark text, size, rotation, and transparency.
* Superimpose \ background documents.
* Appending \ prepending documents.
* User interface control.
* Command line interface to all settings.
* COM \ ActiveX interface for programmatic control.
* Support for
Citrix MetaFrame*
Support for Windows Terminal Server
* Multiple output types supported: BMP, JPEG, PCX, PDF, PNG, and TIFF.
Developer: Bullzip
Version: 7.2.0.1319
License: Freeware
Platform: Windows
Size: 4.5 MB
Download link:
http://www.bullzip.com/products/pdf/info.php