The "Safe" Galaxy Note 7 Unit Catches Fire On A Plane
Aircraft evacuated as the handset burns through the carpet.
The Galaxy Note 7's battery explosion issue is turning out to be a never-ending nightmare for Samsung. Just as the Korean company has been busy replacing the potentially affected devices with the "safe" ones, a Note 7 from the fresh batch has burst into flames in the US.

The incident took place in the Southwest Airlines flight 994, where a Note 7 began emitting smoke in passenger Brian Green's trouser pocket. According to him, he dropped the handset on the plane's floor immediately. Green said that the phone "burned through the carpet and scorched the subfloor of the plane". Thankfully, the flight was still at the gate, and was evacuated without any injuries. According to the owner, the handset was picked-up from an AT&T store on September 21st. Based on the images of the box, a clearly visible black square symbol indicates that it was a replacement unit, marked safe by Samsung. Based on the information provided by Brian Green, the folks at TheVerge ran a recall eligibility check and were greeted by the following message: "Great news! Your device is not in the list of affected devices."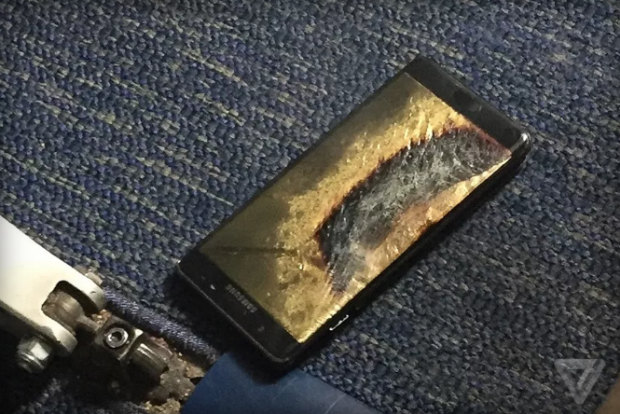 Now that Samsung's "safe" units are turning out to be not-so-safe, it would be interesting to see if the Korean company will now replace the "safe" Note 7 phones with "extra safe" handsets.
TAGS: Samsung