Samsung Galaxy S III Available For Pre-order In India | TechTree.com
Samsung Galaxy S III Available For Pre-order In India
Meanwhile, worldwide pre-orders hit the 9 million mark.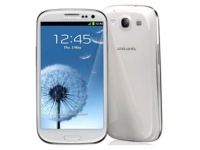 Samsung India has begun accepting pre-orders for its upcoming GALAXY S III smartphone. If you are among the teeming millions clamouring for its quad-core goodness, you'll have to shell out Rs 2000 at the official online store to book one. The listing even promises an "assured free gift" for the faithful.
However, since there are reports of GALAXY S2 variants confirmed with less-than-spectacular hardware configurations in Japan (NTT Docomo) and US (Verizon), let's hope Samsung doesn't plan on conning Indian buyers with a castrated SoC. Again.
In a classic example of the "shut up and take my money" syndrome affecting mobile phone users across the world, Samsung's much-awaited flagship mobile gadget has already racked up a staggering 9 million pre-orders. This figure applies to its worldwide demand, which was reportedly confirmed by a Samsung official.
The halo effect of the quad-core Exynos processor-equipped phone is so overbearing that consumers aren't really bothering waiting for reviews and first user impressions to pour in, before shelling out obscene amounts of money for the pre-orders. Then again, considering how good the GALAXY S II was, their blind enthusiasm is understandable.
TAGS: Mobile Phones, Android, Samsung, GALAXY, Nachiket