Youtube To Mp3 Converter Sued For Copyright Infringement | TechTree.com
Youtube To Mp3 Converter Sued For Copyright Infringement
The YouTube to Mp3 converting site is being approached by industry bodies.
If you are an user of the popular site youtube-mp3.org, there is trouble right ahead. Major music industry bodies which include the RIAA (Recording Industry Association of America), the BPI (British Recorded Music Industry), and the IFPI (International Federation of the Phonographic Industry), are approaching the website legally for copyright infringement.
The reason is pretty obvious but IFPI report pretty much says the story pretty simply. According to the report, YouTube has become the most widely used music streaming service online, in 13 of the world's leading music markets surveyed, but a rather big 50% of the audience in the age group of 16-24 years, admitted to using stream ripping service like that of youtube-mp3.org to download their music.
This development comes as no real surprise in the industry. In fact TorrentFreak has mentioned that a coalition of music industry bodies and record labels has sued the site for infringement of their rights.
Youtube-MP3 is known to be largest pirating site with a monthly visit of more than 60 million users, and also is known to generate revenue through advertisements on its site, though their service remains free. The group that is legally suing the site claims that the stream ripping has a larger audience than sites which have hosting for other pirated content. As per details, the site is being sued for direct, contributory, vicarious and inducement of copyright infringement, plus circumvention of technological measures.

The record labels, in their statement added, "Defendants are depriving Plaintiffs and their recording artists of the fruits of their labor, Defendants are profiting from the operation of the YTMP3 website. Through the promise of illicit delivery of free music, Defendants have attracted millions of users to the YTMP3 website, which in turn generates advertising revenues for Defendants." The Chief of IFPI Frances Moore also mentioned the effect of the site saying, "Music companies and digital services today offer fans more options than ever before to listen to music legally, when and where they want to do so – over hundreds of services with scores of millions of tracks – all while compensating artists and labels. Stream ripping sites should not be allowed jeopardise this."
According to reports, by extracting audio from a song uploaded on YouTube, it also breaches the video streaming service's Terms of Service. Since YouTube depends on advertising to earn money for the content creator (and itself for maintaining the platform), ripping content like songs will rob it of the compensation once the song is ripped and listened to offline and outside of YouTube's app.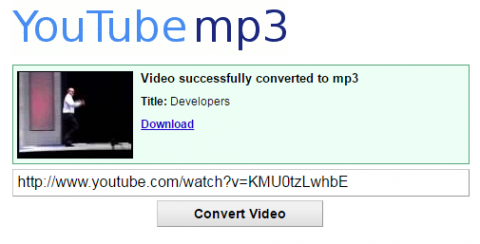 Chairman and CEO of RIAA, Cary Sherman joined in the complaints as well, saying "This site is raking in millions on the backs of artists, songwriters and labels. We are doing our part, but everyone in the music ecosystem who says they believe that artists should be compensated for their work has a role to play. It should not be so easy to engage in this activity in the first place, and no stream ripping site should appear at the top of any search result or app chart." The RIAA has a history against peer-to-peer sites like Napster, Kazaa, and Limewire, where they sued them legally, for similar such infringements. As for content downloaders, the times are certainly changing, and would be a big dent if there are legal repercussions in this case.
TAGS: YouTube, Download, Music Streaming