Google Pixel XL Renderings Show It Has Replicated Google Pixel | TechTree.com
Google Pixel XL Renderings Show It Has Replicated Google Pixel
The newest renderings show that the Pixel XL may have similar form factor to the Google Pixel, after from new changes in the UI.
Even though the October 4 event is around the corner, it seems speculations around Google's latest products is already filling up the market. In a latest revelation of renderings, it seems that the Google Pixel XL handset, which is set to get revealed alongside Google Pixel, are actually quiet reminiscent of each other. VentureBeat in its latest posting claimed the latest renderings to be the design for the Google Pixel XL handset which is the latest series of products from Google, under the new brand name, ever since they let go of the Nexus branding. Other similarities included the UI and launcher like the Pixel launcher, and new icons being solid filled instead of being plain borders at the bottom of the screen.
Other revelations about the new Pixel XL include the Home Screen buttons alongside the other changes. The new rounded icon design could just be exclusive to the Pixel and the Pixel XL handsets, as per the speculations. Not even the other phones running the Android 7.0 Nougat would have those.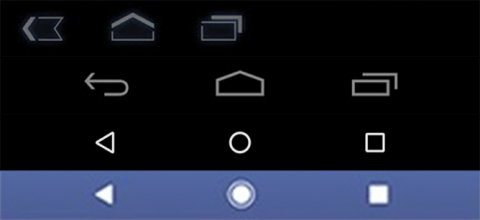 [Home Screen buttons on Pixel as shared by Android Police on it's website. From top to bottom: Android 3.0, 4.0, 5.0, Pixel leak]
The form factor as mentioned earlier, does indeed look familiar. However, for those looking at an upgrade in the Android experience, the UI of the new Nougat edition of the Android OS, should see a 3D user experience, much like what Apple's 3D technology entails. The additional challenge here would be to design the hardware in such a way, that there might not be extra changes needed to incorporate the new 3D user interface.
Since nothing is really official yet, AndroidPolice has revealed what it considers the most probable specifications of the Pixel XL handset. Currently codenamed Marlin, the handset is known to have a 5.5-inch QHD display, a quad-core 2.0 GHz 64-bit processor, 4GB of RAM, 32GB of internal storage, apart from a 3450 mAh battery, a 12 MP rear camera, and a 8MP version for the front selfie shooter. Additionally, there could be the headphone jack on the top, a Type-C USB port at the bottom, and a fingerprint scanner on the rear.
Not just this, the October 4 event is also expected reveal about Andromeda, the supposed merger OS of the Android and Chrome OS from Google. Following this, there is the expected details about the Google Wi-fi router, Chromecast Ultra, and the Google Home Assistant, which could be revealed to the public.
TAGS: Google, handset, Google Chrome, Android, Android 7.0 Nougat