Meet Spectacles: Snapchat's New Snap-On | TechTree.com
Meet Spectacles: Snapchat's New Snap-On
Snap these new smart glass on, and you can record video in circular format.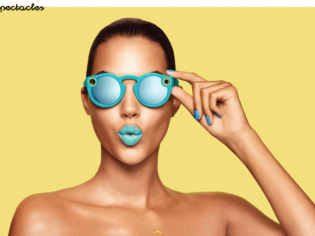 We are all familiar with James Bond's super cool glares that can also record video secretly! Well, Snapchat alongside being re-branded into Snap Inc., has also launched a sunglass with a camera, and this is not a secret video recording gadget. In-fact, these glasses, known as 'Spectacles' are meant to record 10 - 30 seconds of videos that you can share to your contacts via the Snapchat app.
The USD 130 Spectacles by Snap comes with an integrated video camera with a 115-degree lens that can capture the video in a circular format that can, interestingly, be played on any screen in any orientation. Understanding this actually takes some time, I know, and to solve the problem, here is a tweet shared by Owen Williams (@ow) showing the unique feature. Also here is a video shared by Snap Inc showing the spectacles in all possible ways:
The smart glasses come with a light on the inside that lets you know you are recording, while light on the other side informs others that you are recording them. Yes, I know, this video recording feature is already there in your smartphone and you can obviously use them, instead of spending USD 130 for this pair of glass! However, what sets Spectacles apart is the fact that it allows you to record videos in circular format, and you can instantly share the high-quality content either over WiFi or Bluetooth to your smartphone, and then share via Snapchat.
Speaking about the availability, the Spectacles will be initially available only in the USA, as part of its limited launch. There is still no information being revealed regarding the availability of this in the market.
TAGS: Snapchat, Snap Inc, Spectacles