New Google Andromeda OS To Be Teased On October 4 | TechTree.com
New Google Andromeda OS To Be Teased On October 4
The new combined OS Andromeda might be announced at the Google event to be held on October 4, alongside new flagship smartphone devices.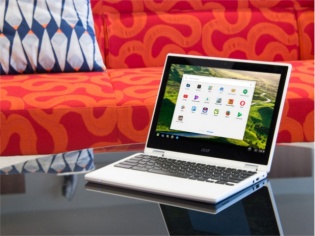 Andromeda, the purported new combined OS of Android and Chrome OS, just might make a teaser appearance on Google's October 4 event. Though it will be held to garner attention towards the Pixel and Pixel XL smartphones (running on Android 7.1 Nougat), which is another new branding from Google to replace the Nexus series, it just could pull of a surprise teaser for the tech world with the Andromeda OS, especially if Hiroshi Lockheimer, the SVP of Android, Chrome OS and Play, is to be taken seriously. In a slightly cryptic tweet, he mentioned, "We announced the 1st version of Android 8 years ago today. I have a feeling 8 years from now we'll be talking about Oct 4, 2016." The speculation for the same had actually started by a report last year, which said that Google would be unveiling a new OS, and whose other predictions turned out mostly true.
Like most new creations, the name for the new OS is being kept under wraps, and is called Andromeda, as a code name. The aim of the OS is being pitched as Google's effort to bring Android to the laptop and convertible devices, but would ideally be successful, if they worked like Chrome OS interface. Hence, the conclusion of assuming Andromeda to be a combo OS of Android and Chrome OS, is not entirely wishful thinking.
[Representative Image via CultOfMac]
Other sources like 9to5Google, quoting unnamed sources, says that the Andromeda is currently being tested on the 2 year old Nexus 9 tablet. There have actually been several mentions of the combined OS on the Android 7.0 Nougat AOSP source code. With the tests being conducted, SurfaceCompositionTest.java, which is perhaps a graphics performance measurement tool, mentions that Andromeda would need a performance score of 8.0 which is double to that of Android's 4.0.
However, while testing on the Nexus 9 tablet, the scores touched 8.8, which hopefully is above Google's own requirement. Another slightly confusing mention on the same platform says, "Detect Andromeda devices by having free-form window management feature," which as it turns out, happens to be Android Nougat 7.0 salient features. However, till the October 4th event gets over, the speculation on Android forums will continue to generate interest. Till then, Pixel is the center of Google attention, where it seems they would bring back the 'restart' option in Android. Would be interesting to see however, in which avatar it comes.