True Balance Crosses 10 Million Downloads In India | TechTree.com
True Balance Crosses 10 Million Downloads In India
The exclusive app for Android users is developed and maintained by Balance Hero.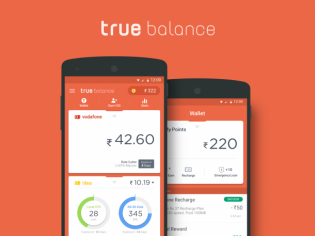 True Balance, a prepaid mobile balance manager for Android users has announced that it has crossed the monumental 10 million downloads milestone. True Balance was launched in 2014 and backed by Softbank in March 2016 has since garnered huge community of devoted users. The app launched exclusively for prepaid Android users is growing in its popularity across it users who routinely use it to check balance for voice as well as data usage and for selecting economically viable packs. The one touch recharge feature of this app makes it easy for the users to recharge on the go anytime.

As the app grew in its popularity, Google Play Store added True Balance to its main page in July 2016 further consolidating its leading position. True Balance enables users to know their daily usage of voice as well as data with one easy tap and supports the dual-sim Android devices with automatic balance notification.

"True Balance's inception began from its product planning stage and considered all the usage aspects of Indian consumers including the burgeoning use of dual-sim compatible handsets," said Charlie Lee, Co-founder and Chief Executive Officer of True Balance. "We at True Balance had conducted our own research which showed that about 59% of the Smartphone users use dual-sim handsets," added Lee.

True Balance implements the Balance-touch function to report on daily usage statistics such as automatic balance notification management with one touch mobile recharge. As more and more Indians purchase and use affordable Smartphones, there is an immense need for an app that will let users track their usage and avail of best plans to offer value for their money. This is where True Balance app comes handy to its users – help them manage their usage across voice and data.

"It was very important for us since our inception to close the loop on an app that can manage usage across data and voice as more and more Indians are buying affordable Smartphones and managing their usage smartly." "Our user community is continuing to grow across India and we have been developing new features regularly to keep users interested in the app," further commented Lee.
TAGS: Press Release, Android, Mobile App, Google Play Store