LG Launches Two New Bluetooth Enabled Multimedia Speakers | TechTree.com
LG Launches Two New Bluetooth Enabled Multimedia Speakers
By using a smartphone and bluetooth connection, you can power on the speaker systems remotely and store upto 50 FM radio stations.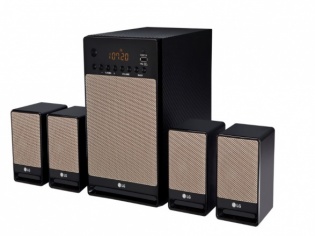 LG has recently launched two new multimedia speakers, LH62 and LH64, under the company's Boom Blast series of Bluetooth enabled speakers.
The new speakers help users jam their playlists wirelessly, while they can amp up the volume and give that extra kick to help them unwind at the end of the day, claims a recent release.
Speaking about the sound output, the LH62 is a 2.1 channel speaker system and delivers a 35 watt sound output, whereas, LH64 4.1 channel multimedia speakers deliver a 54 watt sound output.
These new speakers not only sport Bluetooth, but also come with Bluetooth standby, which means that the speaker system can be turned on by earlier connected smartphones.
LH62 and LH64 also sport excellent FM receptions and are capable of storing upto 50 FM radio stations. These speakers are wall mountable and come with a large digital display.
As mentioned earlier, these speakers are Bluetooth enabled and can be wirelessly connected to any Smartphone, tablet, PC, laptop, etc. The speaker systems consists of portable in, aux in and USB ports.
The LH62 and LH64 Boom Blast Multimedia Speakers are available in two colours, black and gold, while being priced at INR 5,990 and INR 6,990 respectively, at select LG retail stores.
TAGS: Bluetooth Speakers, Multimedia Speakers, LG Boom Blast