Asus ZenWatch 3 Debuts In Style At IFA 2016 | TechTree.com
Asus ZenWatch 3 Debuts In Style At IFA 2016
First ZenWatch model to feature a round case is fully customizable and powered by Android Wear.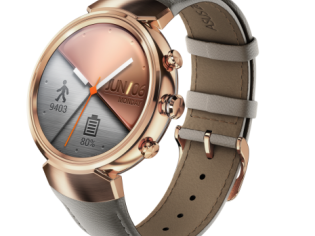 ASUS has announced ZenWatch 3, a stylish and customizable wearable device powered by Android Wear. This precision watch serves as a smart assistant for Android and iOS devices, providing wearers with timely information at a glance and can access all that they want with a simple touch or voice command. ZenWatch 3 is also a full-featured and extremely accurate activity tracker that helps wearers keep their lives in balance and achieve fitness goals.
ZenWatch 3 with a stylish design and for the first time ever for a Asus wearable device, features a316L stainless steel round case. ZenWatch 3 has advanced power management features, so it spends more time on wearers' wrists and less time on the charger. It is powered by the fast, yet energy-efficient Qualcomm Snapdragon Wear 2100 processor and comes with HyperCharge technology that delivers incredibly quick recharge times.
"This is a powerful and fashionable new wearable that has evolved through years of close collaboration between ASUS and Qualcomm, and it leverages proven technology from two previous generations of successful smartwatches," said Anthony Murray, Senior Vice President and General Manager of IoT at Qualcomm Technologies International. "We are excited that the new ASUS ZenWatch 3 is one of the first wearable products to take advantage of the new Snapdragon Wear 2100 processor, bringing unique capabilities to ASUS customers."
ASUS ZenWatch 3 is meticulously fashioned from jewelry-grade 316L stainless steel, available in three gorgeous finishes: Gunmetal, Silver, and Rose Gold. This premium-quality, cold-forged steel is 82 percent stronger than conventional steel to ensure that ZenWatch 3 can easily withstand the rigors of daily wear. The watch's round case has a low-profile design that is just 9.95mm thick and accented by a narrow, rose-gold bezel for a sophisticated look inspired by the corona of an annular solar eclipse. Three crown buttons adorn the case and provide quick access to frequently used functions, including opening the ZenFit activity tracking app and changing the display modes.
ZenWatch 3 has a 1.39-inch AMOLED display with 400 by 400 resolution and 287ppi pixel density for deep blacks and pin-sharp details that make each watch face look its best. The display is covered with gently curved 2.5D Corning® Gorilla® Glass that facilitates smooth swiping gestures and provides tough protection against scratches and damage.
ZenWatch 3 comes with a strap made from a choice of stitched Italian leather or high-quality rubber, each of which is available in dark brown or beige colors.With its assortment of case finishes, strap materials, and color choices, ASUS ZenWatch 3 provides wearers with a variety of personalization options for creating a truly unique watch. Additionally, ZenWatch 3 comes with more than 50 software watch faces that can be changed using the ZenWatch Manager smartphone app, letting wearers easily customize their watch to fit any style, mood, or occasion. Many of these watch faces support customizable widgets that display useful information, such as current weather, daily step counts, and missed call notifications. For an even more personal ZenWatch 3 experience, wearers can create their own unique watch faces with the FaceDesigner smartphone app.
The top crown button on the watch case can be assigned custom functionality, giving wearers instant access to their favorite or most-used feature. ASUS ZenWatch 3 is a full-featured activity tracker that helps wearers stay motivated and improve their fitness. The all-new ZenFit app automatically counts wearers' steps throughout the day with industry-leading 95 percent accuracy, and it also provides reminders to move after periods of inactivity. Additionally, ZenFit tracks a range of activities — i.e., walking, running, push-ups, sit-ups — and it works together with the companion smartphone app to provide helpful and easy-to-understand summaries and graphs for a complete picture of physical activity. IP67 water resistance makes ZenWatch 3 impervious to sweat and inclement weather, so it can be worn during the most vigorous workouts.
ASUS ZenWatch 3 is powered by the latest Qualcomm Snapdragon Wear 2100 (APQ 8009w) processor that is specially designed for wearable devices. It consumes 25 percent less energy than the Snapdragon 400 processor it replaces, giving ZenWatch 3 dramatically improved battery life of up to two days. ZenWatch 3 also features exclusive HyperCharge technology that provides industry-leading charge times — just 15 minutes to reach a 60 percent charge — and a convenient magnetic charging connector that snaps into place automatically. An optional battery pack is also available, providing 40 percent more battery life.
TAGS: Press Release, Asus, Wearable Devices, IFA 2016