A Wristband To Prevent You From Getting Drunk At Parties | TechTree.com
A Wristband To Prevent You From Getting Drunk At Parties
Will notify wearer of the alcohol limit by measuring the ethanol levels escaping the skin.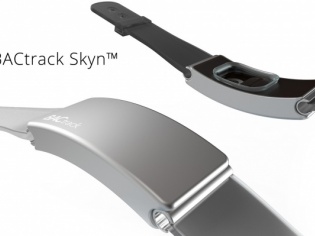 Ever found yourself in a situation, where a few drinks too much, exceeding limits, resulting to an embarrassing situation at social gatherings? In order to prevent users from further getting themselves into a mess, BACtrack Skyn wristband warn users when they have reached their blood alcohol limits. After consuming alcohol, some of ethanol (potable alcohol) escapes through the skin, and this is exactly what the wristband will measure to send the warning signals to the wearer's phone.

The BACtrack wristband has also gotten much attention for its utility, as the breath analyzer free design has managed to get the first prize in the National Institute of Health's Wearable Alcohol Biosensor Challenge, picking up the $200,000 prize money.

The CEO and President of BACtrack Keith Nothacker said in a press statement, "We're excited to bring BACtrack Skyn to market to aid researchers and treatment providers in collecting more reliable data and ultimately, make advances in healthcare treatment."

The Skyn wristband comes with major technological features, which include adjustment of alerts after fixed intervals of time, programming to send data to one's doctors or close friends in case one gets too taken into party festivities.

With the unobtrusive design, it looks sleek and doesn't pop out, making it look like most fitness trackers available in the market today, if not better. Some experts even say that Skyn might be one of the more successful products in the consumer healthtech segment, because of its health tracking capabilities.