Heineken USA Uses Google Maps API To Locate Bars And Venues | TechTree.com
Heineken USA Uses Google Maps API To Locate Bars And Venues
Soccer Is Here, built on Google Maps API, helps Fans find local bars and pubs showing UEFA Champions League, and top European Club Matches and serving Heineken.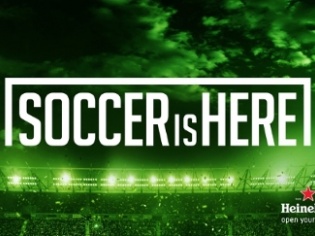 Heineken announced Soccer Is Here, a new mobile website that helps connect passionate fans of the beautiful game with bars and restaurants that serve Heineken -- soccer fans' most preferred beer. Fans no longer need to crib about time zone differences with matches, and a lack of a central hub as major hurdles for catching soccer matches. SoccerIsHere.com mobile platform, Heineken eanbles fans in NYC area to catch some of the most exciting leagues and teams from around the globe. In addition to ensuring soccer supporters are match-ready with a Heineken in hand at bars and pubs, fans can also keep tabs on where to get soccer gear, which parks offer pick-up games or which stadiums are hosting matches.
Built on the Google Maps application program interface (API) and powered by Google Local Guides, Places and Search, Soccer Is Here will allow users to enter a variety of soccer team and league-specific details to help fans find places to connect with other likeminded fans. Whether you're a Liverpool supporter looking for a local pub for a Champions League Match, a New York City FC fan wanting to watch the New York Derby, or a Real Madrid supporter checking out a La Liga tilt, the Soccer Is Here tool gives fans a tailored experience that pairs perfectly with a Heineken.
"Heineken has always been about connecting people to memorable experiences, and for many in the U.S., soccer and a cold beer are at the heart of these moments," says Roberto Ryder, Heineken Brand Manager at HEINEKEN USA. "Gathering a few friends and watching a soccer match shouldn't be difficult. Through the new platform we built with help from Google, we're helping to bring people closer to the game they love, while keeping Heineken right in the middle of the action like the brand has done for years."
"We've enjoyed a longstanding relationship with Heineken and we're thrilled to have collaborated with them on the creation of Soccer Is Here," said Jen Murphy, Head of Industry for Food and Beverage, Google. "Their commitment to making it as easy as possible for fans to find and enjoy the beautiful game here in the U.S. certainly shows, and I'm glad our products will contribute to that experience."
Are you thinking what I am thinking? Hell yeah! Dear Indians, love soccer too! Cheers :)
TAGS: Google Maps, Google, Press Release