Can These Tattoos Control Your Smartphone?
Duoskin works much like a regular tattoo.. apply it via water-transfer method, and you can control your smartphone with just a touch-of-a-skin!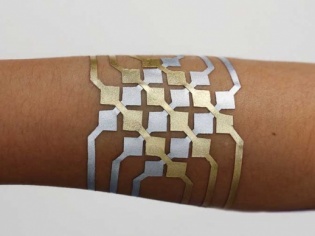 While wearable technology is trending, it seems that MIT research students in association with Microsoft Research are working on something near to the future -- a sort of a tattoo that allows users to control smartphones by just a skin-touch.
Well, researchers have announced on MIT Media Labs' website that, the new technology will be showcased at a wearables conference later this month.
Dubbed, the Duoskin, the temporary tattoo that uses a gold metal leaf, which is cheap, skin-friendly, and can survive daily usage, can be used to control smartphones via NFC technology, reports The Indian Express.
According to a recently published report on GeekWire, Duoskin draws from the aesthetics found in metallic jewelry-like temporary tattoos to create on-skin devices which resemble jewelry. The report also adds that these tattoos consist of conductive gold and silver leaf, along with tissue-thin electronic, arranged in an artistic manner.
Interestingly, these tattoos are said to work in a similar fashion like a regular tattoo -- apply them to your forearm using a water transfer method, and you can control the music player in your smartphone.
Geekwire's recent post also adds light on other applications that comes with these tattoos. They can change color or light up to reflect users' mood; users can also get an antenna tattoo through which they can transmit data via Bluetooth or NFC.
However, since the application resembles that of a normal tattoo, even these Duoskin tattoos would last a few days at the most.