Kodak Launches HD LED TVs In India | TechTree.com
Kodak Launches HD LED TVs In India
Price for the new HD LED TVs start at INR 13,500.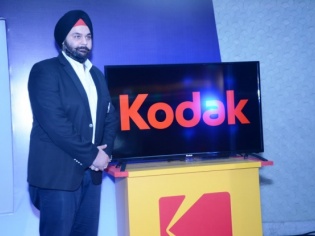 Super Plastronics (SPPL), a Kodak brand license partner, today announced the launch of Kodak HD LED TV in India. The initial product line up will comprise of five HD LED TVs varying over a range of 32, 40 and 50 inches.
The product range will be made available on all leading online ecommerce platforms starting with Shop Clues, Flipkart and Amazon. Shopclues will be launching the 32 inch series exclusively on its site. Sales will begin post 15th August, 2016.
Commenting on the launch, Mr. Avneet Singh Marwah, Director, SPPL said, "It is our endeavor to leverage Kodak's legacy as one of the leading imaging companies in the world to drive its growth in the Indian home entertainment industry as well. Not only will KODAK branded TVs be a game changer in this segment but also set new benchmarks in terms of specifications, accessibility and affordability. Our association with Kodak will enable us to capitalize on the company's global experience and knowledge. Interestingly, the Indian TV segment is currently undergoing a transition phase fueled by the aspirations of the youth in the country, looking for products and services which match their values and expectations. To give a perspective, in 2015, over 14.5 million TV sets were sold across India and over 83% of these were LED/ LCD sets. Furthermore, as a leading TV manufacturer in India we understand the pulse of our customers and look forward to a healthy response we foresee for our product range."
"We are very pleased to partner with SPPL to address the burgeoning market for TV sets in India," said Steven Overman, President of Kodak's Consumer and Film Division and Global Chief Marketing Officer. "Kodak has played a key role in the development of the entertainment industry in India and around the world. We look forward to providing consumers in India with a new range of great Kodak-branded products."
Below are the technical specifications of the HD LED TVs:
KODAK 32HD X900S: 250 Nits Panel, USB to USB copy, Inbuilt games, Samsung Panel, Sound
KODAK 32 HDXSMART: Glass cabinet, Latest interface, True Colors, Sound , MHL, USB to USB copy, 4 GB Flash storage, 512 MB memory, Air Mouse
KODAK 40 FHDX900S: 300 Nits Samsung Panel, Sound, USB to USB copy, Inbuilt games
KODAK 40 FHDXSMART: 300 Nits Samsung Panel, Latest Interface, Sound, USB to USB copy, MHL, 4 GB Flash storage, 512 MB memory, Air Mouse
KODAK 50FHDXSMART: 300 Nits Samsung Panel, Latest Interface, Sound, USB to USB copy, MHL, 4 GB Flash storage, 512 MB memory, Air Mouse
TAGS: Kodak HD TV, HD LED TV