MSAI Launches 'I Feel Safe' Android App For Women's Safety
The app can be used without internet data packs, and alert 5 closest contacts and police in emergency situations.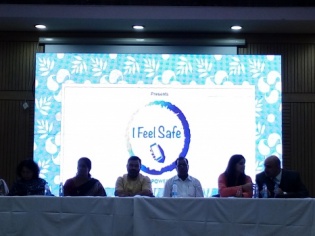 Ever since the 2012 Nirbhaya tragedy took place, there has been a strong call from the Civil society and government to take strict action, in multiple ways, to tackle the problem of women's safety and security. On the technological front, MSAI (Mobile Standards Alliance of India) in joint partnership with Nirbhaya Jyoti trust, launched the Android based 'I Feel Safe' app.
The application, called the 'I Feel Safe Safety ka Power button', is aimed at notifying the local police station and the chosen 5 contacts of the user in case of emergency situations, all done with the help of pressing the power button 5 times repeatedly. The launch was carried out by Smt. Asha Devi, mother of 'Nirbhaya' alongside other dignitaries such as Dr. Kiran Agarwal (Pediatrician and Child Rights Activist), Dr. Manu Kataria (Associate Professor, Bhaskaracharya College of Applied Sciences, University of Delhi), Leher Sethi (Social Activist), Badri Singh (father of 'Nirbhaya'), and Shriniwas (National Joint Organizing Secretary, ABVP).
The 'I Feel Safe' mobile app is a personal safety application for smartphone users. 'I Feel Safe' instantly adds a virtual panic button. Mobile phone owners can simply press the "Safety Ka Power Button" five times to activate an alarm. The app does not need to be invoked for the safety alarm feature to work. In fact, it works even if the screen of the phone is locked, the SIM card has been removed, no Wi-Fi networks are available and without the need to subscribe to a data plan. The app works across India on all mobile networks and sends near real-time updates about the location of the mobile user.
"I greatly appreciate the support and motivation that the youth of this country and leaders like Shri Harsh Vardhan, and other dignitaries have given to Nirbhaya Jyoti Trust and the cause of Indian women in the last nearly four years. It is my fervent wish that every girl should be able to live a wholesome life and step out of home without the fear of molestation and violence. I am happy that MSAI have developed the 'I Feel Safe' mobile app for this purpose," said Asha Devi, mother of Nirbhaya while speaking on the occasion.
"The I Feel Safe mobile app addresses the growing need in the country to ensure better personal safety of women and girls if they are threatened with physical abuse or assault. This personal safety solution can also be availed by senior citizens, and anyone who senses a threat to his or her personal safety," before further adding, "This personal safety power button empowers women by giving them access to a reliable safety tool at all times. Women can avail 24x7 service and ensure safety for themselves and their loved ones. There is no charge for using the I Feel Safe mobile app," said Bhawna Kumari, Business Head of MSAI.
With this development, the safety of women is certainly becoming more organized with the help of technology. However, there are several refinements which need to be taken into account, such as an alternative for Windows and iOS platforms, as multiple users have those options as their OS on their handsets.
TAGS: MSAI, I feel Safe App, Women Safety