HOOQ Adds New Content Exclusively For Indian Audience
Latest addition to the content catalogue includes classic hit sitcoms such as FRIENDS, The Big Bang Theory, Two and a Half Men and Community.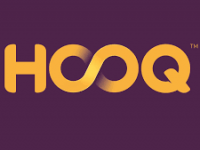 HOOQ, Asia's first premium video-on-demand service, today announced the addition of new titles to its already extensive content catalogue especially for HOOQ's Indian Audience. The new titles include some of the most popular and iconic TV shows of all times like FRIENDS, The Big Bang Theory, Two and a Half Men and Community amongst others.
FRIENDS is an American television sitcom, created by David Crane and Marta Kauffman, which originally aired on NBC from September 22, 1994, to May 6, 2004, lasting ten seasons. The plot is centered around a set of six friends (Rachel Green, Ross Geller, Monica Geller, Joey Tribbiani, Chandler Bing and Phoebe Buffay), living off of one another in the heart of New York City.
The Big Bang Theory is one of the blockbuster shows that is primarily centered on five characters; the two roommates Leonard Hofstadter and Sheldon Cooper, both physicists who are surrounded by their geeky friends like aerospace engineer Howard Wolowitz and astrophysicist Raj Koothrappali. The showstopper being a character, their neighbour named Penny, a waitress and an aspiring actress. The plot is all about the geekiness and intellect of the four guys in contrast for comic effect with Penny's social skills and common sense.
Community is an American television series that follows an ensemble cast of characters at a community college in the fictional town of Greendale, Colorado. It makes heavy use of meta-humor and pop culture references, often parodying film and television clichés and tropes.
Two and a Half Men is an American television sitcom that originally starred Charlie Sheen (the lead character later being replaced by Ashton Kutcher), Jon Cryer, and Angus T. Jones. The series is about the bumpy life of a hedonistic jingle writer, Charlie Harper; his uptight brother Alan; and Alan's son Jake.
Commenting on the new additions, Salil Kapoor, Managing Director, HOOQ India, said, "We always want to offer our customers the best and most exciting content from across the world and genres. Titles such as FRIENDS, The Big Bang Theory, Two and a Half Men have become iconic symbols which would work very well with the younger audiences. While HOOQ has one of the largest numbers of Hollywood titles and we are very excited to continuously add more content every month. With varied content on our platform, we aim to offer our audiences different flavors with an uninterrupted viewing experience. "
HOOQ is a start-up joint venture established in January 2015 by Singtel, Sony Pictures Television and Warner Bros. HOOQ delivers over 10,000 Hollywood blockbusters and popular local programs to customers anytime, anywhere by enabling them to stream and download their favourite shows on their device or platform of choice. HOOQ currently operates in the Philippines Thailand and India with a population footprint of over 1.4 billion people.
TAGS: Press Release, Online Streaming, VOD, The Big Bang Theory