Mercury Announces iXA Tab, Priced At Rs 4000 | TechTree.com
Mercury Announces iXA Tab, Priced At Rs 4000
Low-cost tablet running Android 2.3 has a 7" screen and front camera, available from 23rd May.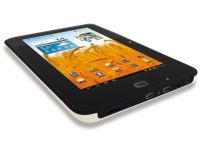 After its mTab range of tablets, Mercury has now launched the iXA Tab, at a considerably lower price of Rs 4000. This Android 2.3 (Gingerbread) device is powered by a 1 GHz CPU and 512 MB of RAM, which should be good enough to run the OS comfortably. The tab has a 7" touchscreen, albeit resistive, which is a price you have to pay for cost-cutting. The in-built capacity of 4 GB that can be augmented up to 32 GB via microSD card. Video calling is also possible, thanks to a VGA front-facing camera.
Connectivity is possible using Wi-Fi, allowing you to access internet, emails, and work while you are mobile. You can also listen to music and watch videos in a wide range of file formats. Optional accessories such as USB keyboard, can even turn this tablet into a netbook. Being an Android Gingerbread tablet, you get access to the Google Play Store, where you can download from thousands of apps. The iXA Tab has been announced as a limited edition product, and will be available for bookings from 23rd May, 2012.